<! Bread Crumbs -->
Bill & Speedy's 1993 Fais-toi Plaisir World Tour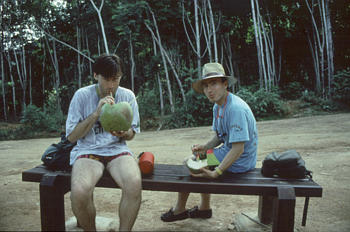 This site will eventually contain our story of a trip through Asia and Australia complete with photographs. In the meantime, you can peruse the rolls of film below, or view the slides based upon regions and keywords--see below.
Asia
Australia
If you are interested in getting into scanning yourself, you may be interested in reading my brief Scanning Slides paper.
---
Experimental Image Viewing
The ability to view images based upon regions and keywords is taking shape. Because I am actively working on the code, it is possible that it might not work! But, the code is minimally functional, so if you encounter problems, you probably caught me just after a broken compilation. If the problem persists, please let me know about it.
To use this feature, enter a list of keywords separated by spaces below. Boolean logic is not yet implemented. For those of you who do know what the heck boolean logic is, the query is a logical and of all terms. Also, the search can't handle terms with spaces although the search is case insensitive.
Warning: this version also doesn't tell you how big the results are so you could get a lot of images for keywords such as Australia, or Oceans. Fortunately, you should be able to abort huge requests with the escape key or by clicking on the Stop button.
Legitimate keywords include the countries we traveled through, the locales we visited, and a host of other keywords. Please report any problems or suggestions to <wohler@newt.com>.
---